Rehearsal Rooms
Please use the form below and the live rehearsal calendar to securely book and pay for your rehearsal. Call 323.993.3172 or email booking@afm47.org with any questions or concerns. Detailed pricing and COVID protocols can be found below.


---
Rates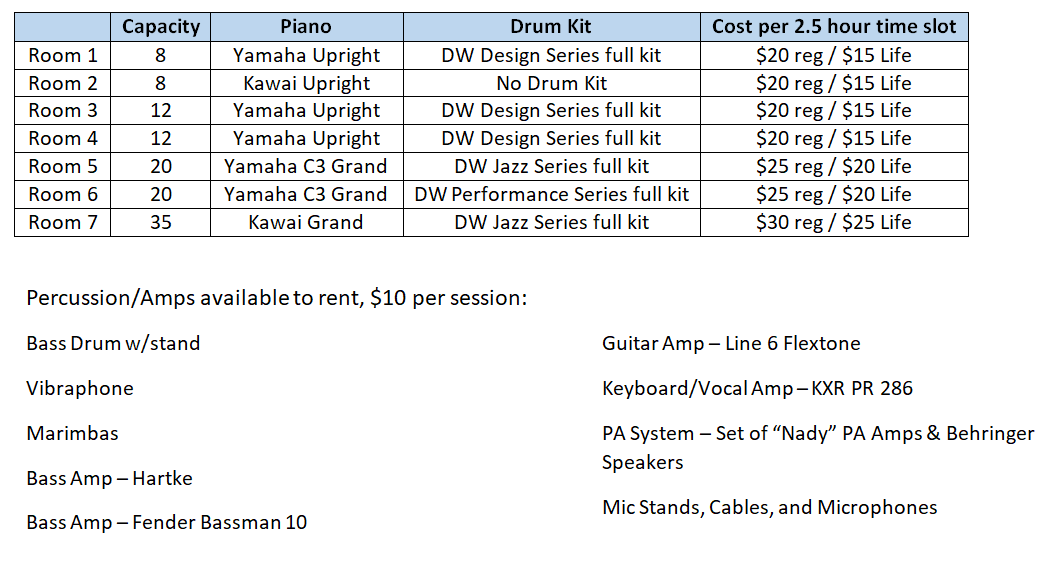 ---
COVID Protocols
Anyone entering the rehearsal rooms will need to be up to date with their Covid-19 vaccine. Up to date means fully vaccinated and boosted. There will no longer be on-site Covid testing.

Please be prepared to show photo ID and proof of up to date vaccination, which includes any of the following:

(a) COVID-19 vaccination record card (issued by the Department of Health and Human Services, Centers for Disease Control & Prevention ("CDC") or World Health Organization Yellow Card) which includes name of person vaccinated, type of vaccine provided and date last dose administered).

(b) A photo of a vaccination record card as a separate document;

(c) A photo of a vaccination record card stored on a phone or electronic device;

(d) Documentation of COVID-19 vaccination from a health care provider; and

(e) Digital record that includes a QR code that when scanned by a SMART Health Card reader displays to the reader client name, date of birth, vaccine dates and vaccine type.

Masking whenever possible is strongly encouraged.

If you have any questions please contact the Vice President's office: 323.993.3173

For more information please click here.
---
Code of Conduct
No one entering these premises shall destroy, damage, mishandle, or misappropriate the property of the Local. They shall not use abusive or vulgar language on the premises of AFM Local 47, nor shall they threaten, harass, or otherwise behave in an offensive manner toward the Local's staff or anyone else on these premises.
It is further prohibited to discriminate against others on the basis of race, color, religion, sex, gender identity, pregnancy, national origin, ancestry, citizenship, age, marital status, physical disability, mental disability, medical condition, sexual orientation, or any other characteristic protected by state or federal laws.
Anyone who violates any of these rules may have their right to use the premises and/or facilities of the Local suspended or revoked.
---
Note: There is a limit of six bookings that any one band or individual musician can make at any time. Rehearsal spaces will only be rented at member rates to members in good standing. Membership will no longer be a requirement for participants.