Member Discounts
As an AFM Local 47 member, you are entitled to discounts and benefits from numerous vendors.

Sessionwire
Sessionwire is a video and audio app that connects you live with clients and producers anywhere, using the recording software you already know and love. AFM 47 members get a 50% discount! Learn more
MusicBooks+Plus
MusicBooks+Plus is now offering all AFM members a 10% discount off the retail price on all items.
MusicBooks+Plus carries music and audio books, videos, CD-ROMs, DVDs, software and sheet music, as well as over 12,000 titles a variety or music business and theory topics.
In order to receive the 10% discount, be sure to note in the "Comments Section" of the online order form that you are an AFM member. The 10% discount will be reflected on your shipping invoice (not on online order).
Westwood Music
Westwood music is now offering a discount to AFM members!
Receive 10% off any merchandise purchase, string instrument repair, or music lesson.
Offer not to be combined with any other coupon or discount, and excludes purchase of any McPherson guitar or select guitar consignments.
CD Netrom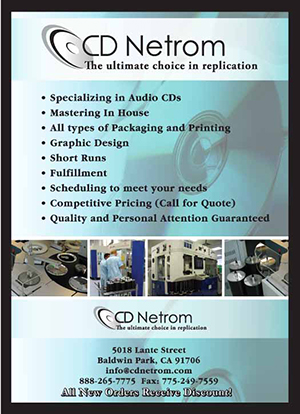 The ultimate choice in replication, CD Netrom is an advanced optical disc manufacturer and has been doing business in California since 1995.

AFM Local 47 members receive special rates with any CD Netrom project. Learn more at www.cdnetrom.com or call (888) 265-7775.
Discounts From Union Plus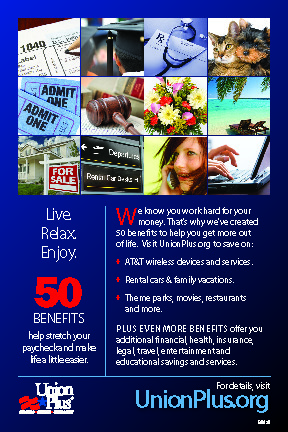 Union Plus savings are brought to you by Union Privilege, established by the AFL-CIO to provide consumer benefits to members and retirees of participating labor unions. Sign up now to receive free Union Plus E-News and automatically stay informed about new ways to maximize the consumer advantages of being a union member. Listed below are just a few of the many discounts and savings programs offered through Union Plus:
Union Plus Credit Card
AT&T Discounts
Taxes
Home Savings
Insurance
Travel Center
Legal Aid Services
New Union Plus benefits help union members facing financial hardship
With many working families in financial distress as a result of the sharp downturn in the U.S. economy, Union Plus is launching a program of new and enhanced benefits to assist eligible union members facing hardships. Union SAFE expands the Union Plus Safety Net by providing a wide array of benefits targeted to Union Plus program participants including help for those suffering from layoffs to soaring hospital costs to problems paying their mortgage to help saving for college. 

Union SAFE will provide $1 million in assistance to help eligible members. Benefits include: 
• Credit counseling: services, budgeting advice and no-fee debt management and bankruptcy counseling benefits. 
• Save My Home Hotline to help avoid mortgage foreclosure 
• Hospital Care Grants of $1,000 to help members who have been hit with large, unreimbursed hospital expenses who participate in the Union Plus Credit Card, Mortgage or UnionSecure Insurance programs. 
• Job Loss Grants of $250 for Union Plus Credit Card holders who have been recently laid off for more than 90 days. 
• Disability Grants of $1,000 to $2,000 for qualified Union Plus Credit Card holders who have significant income loss due to a recent long-term illness or disability 
• Mortgage Assistance to help Union Plus Mortgage holders, who become unemployed, disabled or go on strike, make their mortgage payments. 

And, to help members finance their children's college educations, Union SAFE offers College Savings Grants of $500 to members who open new 529 tax-free college savings accounts or pre-paid tuition accounts of at least $1,000.