Tuesday, December 8, 2020 | Polls open 9am - 9pm
3220 Winona Ave. Burbank CA 91504
---
SEE THE RESULTS OF TALLYING OF BALLOTS HERE
---
The next General Election of the AFM Local 47 President, Vice President, Secretary/Treasurer, Trustees, Directors, Hearing Board, and AFM Convention Delegates/Alternates takes place Tuesday, Dec. 8, 2020.
To review Bylaws relating to the election, please view them in the members-only section of our website (log in here and navigate to "Members-Only Scales & Documents" > "AFM47_Bylaws.pdf" in the rightmost column), or request a copy of the Bylaws from the Secretary's Office at 323.993.3159.
Due to the unique and unprecedented circumstances surrounding COVID-19, we know that members and candidates will have questions about the logistical aspects of this year's Local 47 election. The Election Board will be offering additional instructions and guidance as we proceed with this process. We thank you in advance for your patience.
---
Questions About the Election?
Please be aware that only members of the Election Board — no Local 47 officers or staff members — are authorized to answer any questions concerning the election. Election-specific questions should be addressed to any officer of the Election Board:
Paul Sternhagen (Chairperson)
Stephen Green
Scott Higgins
Kris Mettala
Marcy Vaj
Mark Zimoski
---
Publications in Overture
The alphabetical listing of nominees, Vote By Mail Absentee Ballot Request Form, & more were pubished in the Fall 2020 Overture Magazine and October 2020 Overture Online. See the Election 'Special Edition' of Overture Magazine mailed out in late October to see candidate statements & photos, Vote By Mail Absentee Ballot Request Form & more. Members missing an issue of Overture Magazine may view the pdfs in the members-only section of our website here (click the Members-Only Scales & Documents tab, or may request a print copy from the Overture Office at 323.993.3162 or overture@afm47.org. Please stay tuned to this webpage and Overture Online for continued updates.
---
Policy Governing Eligibility to Vote
1. All Local 47 members who are in good standing as of 4:30 p.m. (close of business) on Dec. 7, 2020 — the last business day prior to the General Election — are eligible to cast a ballot.
2. Any Local 47 member who has been suspended or expelled for the non-payment of dues or wishing to reinstate within one year of resignation shall have until 4:30 p.m. on Dec. 7, 2020 by which to clear his/her delinquency and return to full good-standing status in order to be eligible to cast a ballot.
3. New members or those rejoining after resignation must complete and submit a membership application no later than Monday, Nov. 30, 2020 by 4:30 p.m. (the week prior to Election Day), so that their membership can be approved at the next Local 47 Executive Board meeting the Tuesday prior to the General Election. All applicable fees apply. (Note: The Local reserves the right to refer applications of all persons seeking reinstatement from resignation to the International Executive Board per Article 9, Section 19 of the Federation's Bylaws.)
4. Life Members in good standing may vote in the Local 47 General Election. Inactive Life Members, who pay a reduced membership fee, are not eligible to vote per our Bylaws. Inactive Life Members wishing to vote may do so by changing their membership status to Life Member by contacting the Membership Department at 323.993.3116 and completing the process by 4:30 p.m. on Dec. 7, 2020. All applicable fees apply.
---
On-Site Voting
In accordance with Bylaws Article IX, Sections 1 and 11, members in good standing may vote on-site Tuesday, Dec. 8, 2020 or by absentee mail-in ballot. On election day, Local 47 headquarters will be open for members to cast their ballot between 9 a.m. and 9 p.m. The Election Board, in conjunction with Local 47 building management, will design a protocol for on-site voting that follows government health and safety regulations in effect on the day of the election.
UPDATE: On-site voting will take place entirely outdoors. Do not park your vehicle. Do not get out of your vehicle. Drive to the parking lot at the rear of the building. You must wear a mask that covers your nose and mouth.
1. If you are dropping off an already completed ballot, please hold up the completed, sealed yellow envelope up to your window. We will lift the ballot box to your window. You drop it in. You are finished.
2. If you need a ballot (e.g. you were planning to vote in a booth), either tell the attendant your name (last name first), and when your name has been located on the Eligible Voter Roster, you then verify your mailing address -OR- for even less contact, you could hold your driver license up to the window, while the attendant finds your name & address on the list. Then the attendant will hand you Ballot A & Ballot B and a tool to punch out the holes (or you can use your own pen or pencil to punch). You will then move your vehicle to an adjacent area as directed. Your vehicle is your voting booth. Stay in your vehicle. Punch out hole to the right of your choice. Turn ballot over and remove any hanging chads/tabs. Vote both sides of both cards. When you have completed your ballots, hold your hand up outside your window, and attendants will bring the ballot box to your window. You drop the two cards into the ballot box. You are finished.

When you are finished, please leave the property promptly.
---
Voting by Mail
Instead of going to the polls on December 8, you may vote using the vote-by-mail absentee ballot that is available only by request.
Any member may request an absentee ballot by submitting the absentee ballot request form to the California Elections Company via mail or fax. The absentee ballot request form will be available in the October and November issues of the Overture, as well as a printable PDF on the Local 47 website here: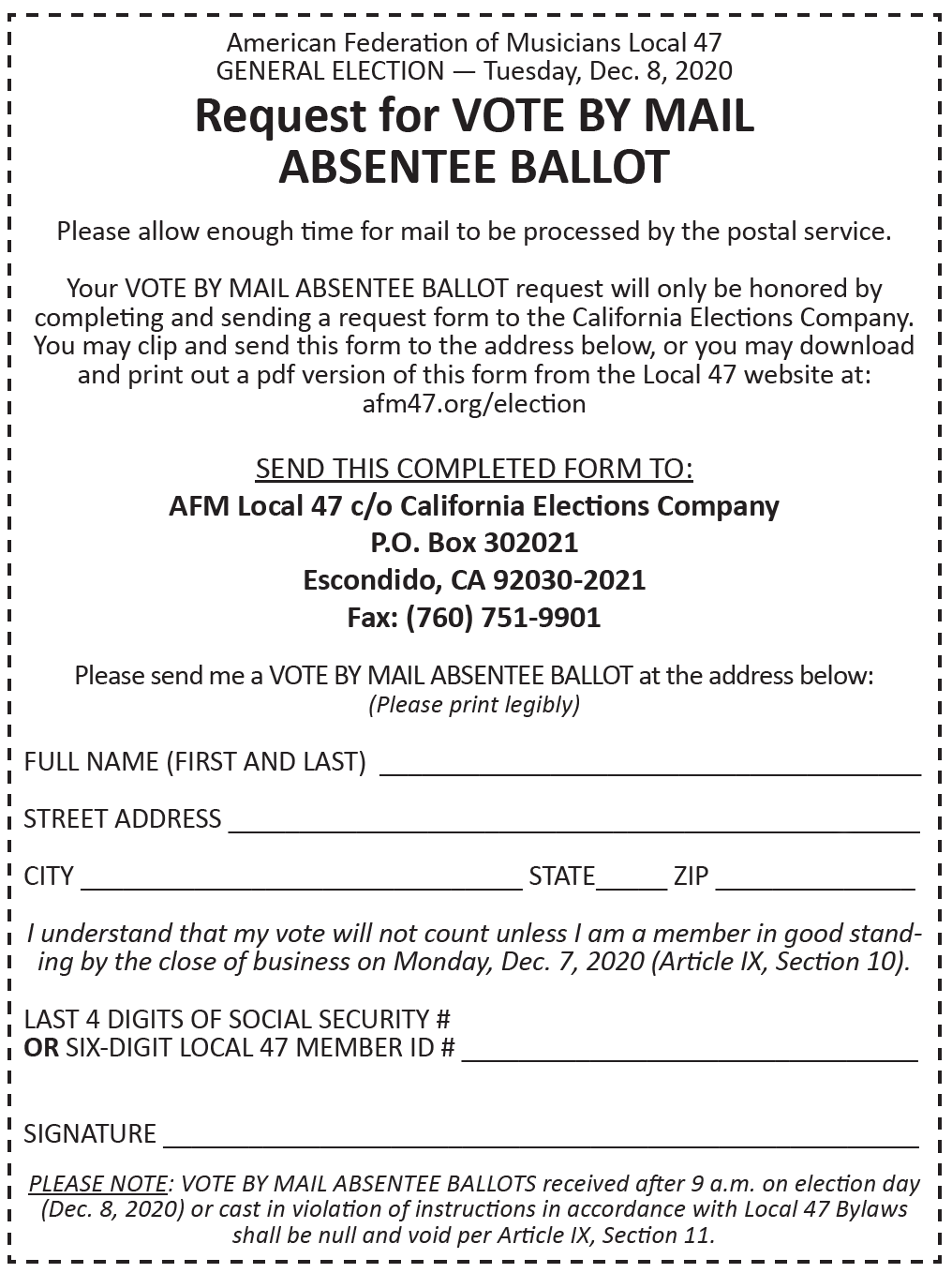 Right-click here to print/download Absentee Ballot Request Form (pdf)
(For Mac users using a trackpad: hold down the "Control" button + click the above link, and follow the prompts to print or download.)

After you receive your absentee ballot and have completed it, return your vote-by-mail absentee ballot ASAP by mailing it in the envelope provided only to the address printed on the envelope.
When your vote-by-mail absentee ballot is received by the Post Office, it will remain in the P.O. Box until the Election Day when it is picked up by the election board and election company at 9:00 a.m. To preserve the secrecy of your ballot, the election company shall verify the absentee ballot and place it in a sealed ballot box to be counted with the other ballots cast.
Vote-by-mail absentee ballots received at the post office after 9:00 a.m. on the Election Day or cast in violation of instructions in accordance with Local 47 Bylaws shall be null and void.
Once the request form is received, absentee ballots will be mailed to members beginning October 19, 2020. After this date, if you do not receive your voting packet within 10 days of your request, please contact the Election Board.
---
Casting Votes
Per Article IX, Section 14 of the Byalws: Each member may cast votes for as many candidates in each category as there are positions to be filled. The member may choose to cast votes for fewer candidates than there are positions to be filled, but not for more, and should more than the allowed number of votes be marked for any category, that portion of the ballot shall be deemed invalid.

---
Eligibility for Office
To be nominated for any office a member must have been in continuous good standing a period of 365 calendar days immediately preceding Oct. 1 in any election year. To hold any office, a member must have been in continuous good standing for the period of 365 days immediately preceding the scheduled date of installation of office on Monday, Jan. 11, 2021. No member shall hold nor accept nomination for more than one office, although they may additionally hold the position of, and accept nomination for, Delegate or Alternate Delegate. However, members nominated for the offices of President, Vice-President, or Secretary/Treasurer shall not be eligible to accept separate nomination for Delegate or Alternate Delegate. Further, candidates for President, Vice President, or Secretary/Treasurer, because those officers are automatically delegates, shall not appear separately on the ballot as Delegate (see Bylaw Article IX, Section 2).
---
Prohibited Campaigning Directive
The use of Local 47 facilities, equipment or property (including stationery, telephones, stamps and stamp machines, computers, copying machines, and any other equipment or materials) by any candidate or member, for the purpose of campaigning for or against any candidate for office in the Local 47 election, is prohibited by the Local's Bylaws and is also a violation of Federal Law. Additionally, members are barred by Article IX, Section 13 of the Local 47 Bylaws from collecting nominating petition signatures while on Local 47's premises.
However, obtaining signatures on public property (ie, sidewalks surrounding the Local's property or off-site locations) IS permissible. It is also acceptable to announce at the Local or off-site locations (ie, job sites, gatherings of musicians) that petitions are available to sign if desired, if the following guidelines are observed:
1. Permission must be granted by the leader/contractor at their discretion without any coercion or pressure on them or on the potential signee to make or allow the announcement.
2. The Leader/Contractor may not express nor show bias of any kind for or against the member's candidacy when making such an announcement.
3. Announcement must be made and signatures must be collected before or after the job or on a break. Nothing in the Bylaws prohibits friends/family of a candidate from soliciting signatures on nominating petitions providing that the friends/family are also Local 47 members in good standing and provided they abide by all the rules listed above. (amended 7/31/2020)
---
Electronic Communications Policy
Following the intent of Article IX, Section 12, of the AFM Local 47 Bylaws, it shall be a matter of policy that the rules and restrictions as outlined in said Bylaw shall also apply to all electronic communications published by Local 47, including the digital issues of Overture Online, the Local 47 website (afm47.org), the Local 47 email newsletter "The Local 47 Beat" and any special notices sent by Local 47 via email blast, and all associated social media pages (Facebook, Twitter, Instagram, LinkedIn, etc.).