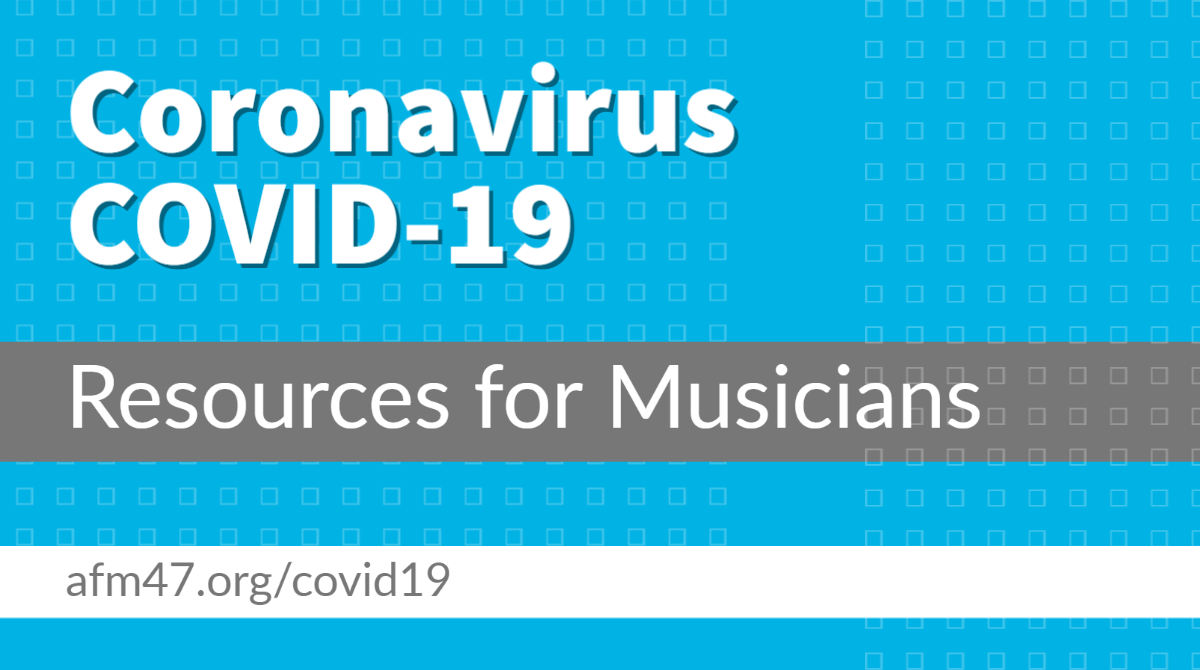 AFM Local 47 will continue to update this list of news and resources for musicians about coronavirus COVID-19.
Please continue to check back here for the latest updates.
---
Loss of Work Due to COVID-19
If you have experienced canceled work services or reduced hours, need to care for a family member who has contracted COVID-19, can no longer work full time because your child's school has closed, or if you become sick or quarantined due to coronavirus, you may be eligible to file a claim with the California Employment Development Department (EDD).
Please review our Musicians FAQ on Filing Claims With EDD for more information on which benefits you may be eligible to recievd and for answers to frequently asked questions.
---
Emergency Relief for Musicians
Music Covid Relief - a resource to help music professionals access information and applications to receive benefits made available by the CARES Act
AFM Local 47 & Music Fund of Los Angeles Relief Funds
MusiCares / Recording Academy COVID-19 Relief Fund
New Music Solidarity Fund - emergency grants to performers of music by living composers
List of emergency funding for freelance musicians
L.A. County Department of Cultural Affairs: Arts Emergency Relief Fund - for Performing artists and ensembles in dance, music, or theater
---
Local 47 News Alerts for Members
Board approves 60-day moratorium on suspensions for membership dues (3/27)
EDD Update on filing for Emergency Relief (3/26)
Send us your questions on filing for unemployment & other EDD benefits by 3/26 (3/23)
AFM Local 47 offices are closed, but services remain available (3/20)
A Message from President John Acosta (3/18)
Important coronavirus Local 47 facilities update (3/11)
Advice for musicians in relation to coronavirus COVID-19: A message from AFM Local 47 (3/6)
H&W: The New Coronavirus (3/5)
---
Other Relief Resources
LA County Federation of Labor: Coronavirus Resources & Information
Los Angeles COVID-19 Community Resources
Additional list of resources for freelance musicians
---
Additional Information
How to Properly Wash Your Hands

ICSOM Guidance on the application of force majeure
Health & Welfare Fund: Information for Kaiser, Blue Shield, and Delta Dental participants
Department of Industrial Relations: COVID-19 FAQs on laws enforced by CA Labor Commissioner's Office
Department of Managed Healthcare: Coverage Options
Labor & Workforce Development Agency: Guidance for Employers and Workers
Music Unites Us - ASCAP COVID-19 resources
Office of Business & Economic Development
---
Calls to Action
AFM: Tell Congress Entertainment Workers Need a Relief Package
National Nurses United: Nurses Must Be Protected During COVID-19
Healthy LA Coalition: Urge LA City Council to Protect Residents During the Pandemic
AFGE: Largest Federal Workers Union Urges Congress to Prioritize Feds' Health and Safety in New Coronavirus Package
UFCW 770: Ask Gov. Newsom to Protect Grocery and Pharmacy Workers