For COVID-19 resources for musicians, please visit afm47.org/covid19.
---
If you have experienced canceled work services or reduced hours, need to care for a family member who has contracted COVID-19, can no longer work full time because your child's school has closed, or if you become sick or quarantined due to coronavirus, you may be eligible to file a claim with the California Employment Development Department (EDD). Review the information below on which state and federal benefits you may be eligible to receive and for answers to frequently asked questions. (Jump to FAQ here.)
---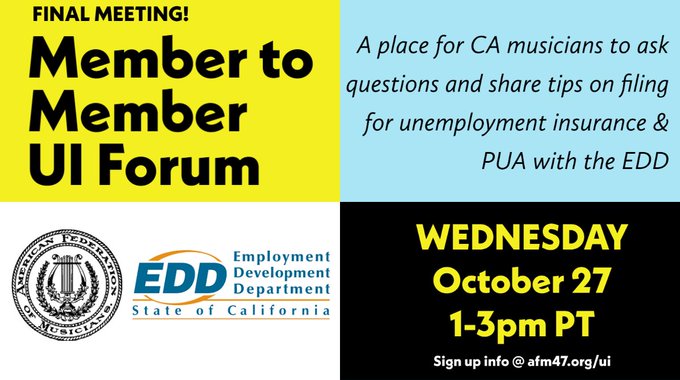 Sign up to receive the Zoom link by sending an email to: blakemartinmusic@gmail.com
---
EDD Updates
News Release from EDD 3/24/21
- explains what will happen next to your UI claim under the American Rescue Plan.
For claimants on regular UI – you will need to reapply when your claim expires.
For claimants on PUA – your claim will be automatically renewed by EDD.

Mixed Earner Unemployment Compensation (MEUC):
EDD is working with the DOL for guidance on how to implement the MEUC program. No instructions released yet.
This will apply to "mixed earner" claimants who are on regular UI claim and earned at least $5,000 in self-employment income.
The MEUC program will provide an additional $100 stimulus payment between December 27th 2020 and March 13th.
MEUC payment is an addition to the $300 stimulus payment.

To request EDD to pay you for missing weeks, try this method:
Go to https://askedd.edd.ca.gov
Select Category: Unemployment Insurance Benefits
Select Sub-Category: Payments
Select a Topic: Where is my payment?
Then enter on the comment box: "I am requesting a payment transfer from PEUX (or PUA, if applicable) for the week ending [insert week lost here] for the amount of [enter what they owe you]."

Calculate your benefits with the Coronavirus Benefits Calculator (powered by Zippia)

Download an informational pdf: Assistance Programs for Workers During COVID-19
---
---
PUA, PUC, PEUC & the Federal CARES Act
The CARES Act creates three new federal UI programs: Pandemic Unemployment Compensation (PUC), Pandemic Emergency Unemployment Compensation (PEUC), and Pandemic Unemployment Assistance (PUA). All three programs are fully federally funded. States will also receive additional administrative funds to operate these programs. For an overview of these three new programs, review this informational CARES Act chart.
PUC, PEUC and PUA assistance will be administered by each state's EDD. Eligibility will be determined by any income that does not qualify for UI. The PUA program will be up and running in California on April 28. Check the CA EDD's new Pandemic Unemployment Assistance webpage for more information and to apply for PUA. If you are out of work due to COVID-19, have a small amount of W-2 income and a large amount of income from self-employment over the last 18 months, and absolutely know you will not qualify for UI, apply immediately for PUA. If are unsure whether you would qualify for UI, first apply for a regular UI claim with your W-2 wages. After those benefits are exhausted, you can then apply for PUA based on earnings from self-employment. If you file for UI and receive an award notice indicating $0 in benefits available, file for PUA. View the PUA FAQ here

After you apply for UI or PUA, you must then certify. This instructional manual (developed by the California Association of Realtors) describes this process in detail: Step-by-step guidance for certification and other post-application information

---
California EDD Claims
Informational Videos
Click here for more informational videos, and to view videos in another language.
If you have already applied for Unemployment Insurance benefits, refer to the UI Insurance Claims timeline to learn what to expect through the course of your claim for receiving benefit payments as long as you are eligible.
---
Frequently Asked Questions about CA EDD
* DISCLAIMER: The information offered here is based on the most current answers we have received from EDD and UI experts. Everyone's situation is unique, and this general FAQ does not necessarily address the exact situation of any one individual; please contact your EDD representative for specific guidance. This FAQ will be updated in real-time to reflect the most current information available. Please visit afm47.org/covid19 for additional resources for musicians.


When should I file a claim?
If you have experienced canceled work services or reduced hours, you may be eligible to file a claim with the California EDD. Click here for more information to review your circumstances and how to apply for benefits. The most important thing EDD wants ALL members to know is: Don't wait to file the claim – file it now. Your benefits will start from the week you submit your application. Don't worry about waiting to figure out if you qualify – file and EDD will make the determination. To calculate your estimated unemployment amounts please visit edd.ca.gov/unemployment/UI-Calculator.htm.
What benefit(s) am I eligible to receive?
Review this COVID-19 Benefits Worksheet to review your circumstances and how to apply for benefits. Below is a quick overview:
• Reduced Work Hours: If your employer has reduced your hours or shut down operations due to COVID-19, you can file an Unemployment Insurance (UI) claim. If you qualify for UI, PUC and PEUC will be automatically determined and added to your weekly benefit. If you do not qualify for UI, apply for PUA (California will begin accepting applications on April 28).
• School Closures: If your child's school is closed, and you have to miss work to be there for them, you may be eligible for Unemployment Insurance benefits. Eligibility considerations include if you have no other care options and if you are unable to continue working your normal hours remotely. Contact the EDD and a representative will determine if you are eligible.
• Sick or Quarantined: If you're unable to work due to having or being exposed to COVID-19, certified by a medical professional, you can file a Disability Insurance (DI) claim. (Note: Gov. Newsom has waived the state's one-week waiting period for filing a claim.)
• Caregiving: If you're unable to work because you are caring for an ill or quarantined family member with COVID-19, certified by a medical professional, you can file a Paid Family Leave (PFL) claim.
• Work Sharing Program: Employers can apply for the Work Sharing Program if reduced production, services, or other conditions are causing you to seek an alternative to layoffs.
How do I file for UI and other benefits with EDD?
Currently there are three ways to file: online, phone, paper. Online at edd.ca.gov/claims.html continues to be the quickest way to file but it still may take a while based on the volume (California currently has a surge of claims).If your circumstances are a result of COVID-19, be sure to indicate this on your application by selecting "COVID-19" from the online dropdown menu (or write-in on your printed application); do not select "disaster" or "emergency." (If you have already applied and selected one of these options, it's OK; EDD can issue a correction.)
PLEASE NOTE: If you start your claim and save it to finish later, be aware that EDD refreshes every Saturday at 8 p.m., so you must complete your claim by then or you must start start over on Sunday.
Log in to Benefit Programs Online to get started.
Select File a Claim.
Read the UI Claim Filing Instructions. Select Next to continue.
When asked for the separation reason, Select "COVID-19" from the pull-down menu if your unemployment is due to layoff or furlough due to COVID work stoppages.
Provide your general information, last employer information, and employment history.
Review the information you provided on the Summary Page and then select Submit.
Note: After submitting your claim, a confirmation page will display. You may keep your confirmation number for your records.
You will receive a packet in the mail via USPS which will contain info regarding your benefit. You may appeal the decision. Instructions will be included.
Who do I file under if I am a corporation / have an S-corp?
Whoever the paycheck comes from – usually a payroll company – file using them as the employer. Whoever pays the employer tax, should be designated as the employer.
Under Employment History, what do I select for "Business Type" and "Work Type"?
To ADD BUSINESS TYPE, select "Services" from the business results list, then select "Amusement & Recreation, Except Motion Picture" from the category results list for music work unrelated to the motion picture industry. (For music work done for film, you will select "Motion Pictures" from the category results list.) To ADD WORK TYPE, click "search" and type in your job title/classification (e.g. music performer). Note: If you can not find your exact job title, just select the closest match. This information is used for statistical purposes only and does not affect your eligibility to collect UI benefits.
I have both W-2 and 1099 income. What should I do?
If you received any W-2's at all, you must first apply for UI to see if you qualify for regular unemployment benefits. Even if you qualify for as little as $1 in UI benefit, you will also receive the additional $600 per week from the federal PUC, as well as a 13-week UI extension from the PEUC. Once your UI benefits are exhausted, you can then apply for PUA based on your 1099 income. Learn more about PUC, PEUC and PUA here.
What if I receive multiple W-2s, some from work done in other states?
Having multiple W-2s is OK. You only have to provide data on the majority of employers. If some of your highest wages were paid out of state, it is best to call to file your claim if verifying for more than one state because EDD has to coordinate with the other state to verify the wages earned in another state. If you earned a significant money from another state, this may enable you to receive the maximum amount for UI. EDD combines all wages together and select the highest amount. If your hours are reduced 20% or greater, you can apply.

• Example: If your weekly benefit is $450 and you make $50 – the first $25 or 20% is non-deductible. EDD will subtract it from what you'll receive.
Are residuals, such as those received from the Film Musicians Secondary Markets Fund, considered wages?
Yes; the Department considers residual payments to be wages since they are compensation for personal services. Some other terms used for this type of payment are use, reuse and rerun payments or fees. Individuals may receive residual payments for recorded material such as:
television programs or commercials
films
video disks
video tapes
phonograph records
audio tapes
audio disks
If you are claiming unemployment insurance benefits, you must report residual payments or holding fees on your bi-weekly Continued Claim Form, DE 4581. Provide the following information on the DE 4581 or attach a separate sheet of paper to the form:
Name and address of the employer who paid the payment/fee
Gross amount of the payment/fee before any deductions
Type of payment - such as "residual payment," "reuse fees," or "holding fees"
Date you received the payment/fee
For more information please refer to Residuals and Holding Fees.pdf and watch this instructional video on How to Report Entertainment Industry Earnings (YouTube).
Who do I claim as the employer for my residuals income?
Yes; whoever is responsible for processing the payroll and collects and distributes the wage to the musician is the entity you should list on the claim (e.g. you would list "Film Musicians Secondary Markets Fund" for their annual July 1 distribution). Do your best to estimate your hours per week, and explain that these are residual payments in the follow-up eligibility call you will receive from the EDD rep.
Are royalties, such as those distributed by the AFM & SAG-AFTRA Intellectual Property Rights Distribution Fund, considered wages?
No. Royalties are not considered wages for unemployment insurance purposes since they are not paid in exchange for services performed. Therefore, their receipt does not affect the claimant's eligibility for unemployment benefits.
If I have enough income during the qualifying quarter from the combination of W-2, 1099 and self-employment, but not enough from any of those categories by itself, can I still qualify for a benefit?
You will not qualify for a regular unemployment insurance (UI) claim as this only accounts for W-2 work. However you may qualify for the Pandemic Unemployment Assistance (PUA) program. Please check the Pandemic Unemployment Assistance page on the EDD website for further information.
I am fully self-employed / an independent contractor / gig worker. Can I receive UI?
Typically, no. If you are self-employed or an independent contractor and agree with your classification, you should not file a UI claim; you should instead file for Pandemic Emergency Assistance (PUA) (California will launch the application process on April 28). If you are unclear as to your proper classification (e.g. independent contractor vs. employee), you can file a UI claim and the EDD will open an investigation to determine your correct classification. However, if you are self-employed, an independent contractor, or gig worker and are unable to work or have had your hours reduced due to COVID-19, you may be eligible for UI benefits under a few different scenarios:

• You chose to contribute to UI Elective Coverage and paid the required contributions to be considered potentially eligible for benefits.

• Your past employer made contributions on your behalf over the past 5 to 18 months.

• You may have been misclassified as an independent contractor instead of an employee.

For more information visit the EDD's Coronavirus 2019 FAQs.
Under 'Employment History' it asks what employer I worked for the longest. How do I answer this as a freelance musician with multiple employers?
Aim for where the highest wages earned come from when adding employers. When you are self-employed put yourself down as your own employer. When an EDD rep receives your claim they will treat it on a case by case basis.
I had a gig scheduled which got canceled due to the coronavirus outbreak. Can I list this on my UI claim?
No; you can only report on past wages earned. If it is a new company you were supposed to work for, but the contract was cancelled before you worked for the company, you cannot list them as an employer. However, if you had previously worked for this same employer in the past, then you are considered an employee and can file.

• For example: You worked for Princess Cruise and finished their job March 1st. Then you received work from Norwegian Cruise (who is a brand new employer for you – you have never worked for Norwegian Cruise before) to start March 30th, however, Norwegian Cruise cancels the contract. The employee can file unemployment, but Norwegian will not be the employer that will be attached to the claim. The last employer considered will be Princess Cruise.

• If you have worked with Princess in the past and you had a new contract to work with them again in April but that gets cancelled, then you can apply for UI using Princess as the employer. If the contract would show dates of performance, wage, etc. then you are considered and employee and can file.
How does a freelancer who still teaches privately but has lost all other gigs for the foreseeable future apply for partial unemployment? How does one calculate the lost income when the income is variable based on the orchestra, pay scale, and number of services?
UI is based on past wages earned. When filing a claim enter your most recent and highest paying jobs in order to maximize your benefit.
Can I receive unemployment if I am receiving Social Security payments?
Yes, this will not affect your UI benefits.
I don't have my paystubs. Can I estimate?
Use your best judgement for reporting wages. The best way to keep track of your work during the week and report the most accurate way is to track your hours daily, and at the end of the week add them up and times them by the hourly rate.
Can I receive both unemployment and disability insurance?
In most cases, no. If you are unable to work physically, the best route is to get a doctor's note and file for Disability Insurance.
I am still working but am receiving a reduced salary. Do I qualify for UI?
You may be eligible to receive partial payment of benefits if the wages you report do not exceed the amount allowed based on your weekly benefit amount. If you are eligible to receive payment in a given week, you are also eligible to receive the additional $600 stimulus payment. Please ensure that you report your wages on the continued claim certification to ensure the EDD UI properly calculates your payment amount.
Can I file for unemployment as a non-U.S. citizen?
Yes. UI is not only for U.S. citizens. Anyone with the right to work in the U.S. can apply.
Where can I find more information about benefits directly related to coronavirus?
Please visit edd.ca.gov/about_edd/coronavirus-2019/faqs.htm.
I filed for UI and received an award notice indicating $0 in benefits available. What do I do?
You may be eligible to receive federal Pandemic Unemployment Assistance (PUA). View the PUA FAQ here.
How long will it take for my claim to be processed?
Your claim may take on average 21-30 days to process. The system is currently experiencing a surge in applications.
It's been several weeks since I applied for UI, and the portal says they put money on my debit card, but I never received a debit card in the mail. What should I do?
The claimant will have to contact Bank of America for assistance. They may reach them at 1-866-692-9374. You may also refer to this webpage: edd.ca.gov/About_EDD/The_EDD_Debit_Card.htm
My status is stuck on "pending." What do I do?
An EDD rep offers these suggestions:
- EDD will send you a notice in the mail with further instructions. Continue to certify for any weeks that become available while your claim is pending in order to receive benefits once you are determined eligible
- For the quickest assistance, send a "Secure Message" using the UI Online portal
- Log in to UI Online and check the "Notifications" tab to see if anything is needed
- Escalate your claim to your local city councilmember or state senator's office
- Call your local American Job Center to make an appointment with EDD to review your UI claim


I need more help. How can I reach EDD to ask a question?
The best way to find information about the status of your claim or payment is to access UI Online via Benefits Payment Online (BPO). It is the fastest online service for questions about your claim.
The EDD has also extended its call center to seven days a week, 8am-8pm. Please monitor the EDD website for the most updated information at edd.ca.gov/about_edd/coronavirus-2019.htm. You are also encouraged to follow the EDD on social media: facebook.com/californiaedd, twitter.com/CA_EDD. The California Labor Federation also offers these tips on on contacting EDD if you are experiencing problems getting through.
See also: Phone Tips to calling California EDD (YouTube video)
---
For more information, please visit our COVID-19 Resources for Musicians page at afm47.org/covid19.