Archives
The AFM Local 47 Archives Department is dedicated to preserving and maintaining contract files for a variety of engagements. We have Phonographic, Motion Picture/TV Film, Commercial, Videotape, Radio, Local 767 (pre-amalgamation) contracts as well as membership applications and assumption agreements.
Our archive includes:
Issues of the Overture dating back to the 1920s
Books/Encyclopedia
CDs/Records/Tapes/Videotapes
Historical Local 47 Records (Bylaws, Directories etc...)
Contracts
Please note: Research is currently available on an extremely limited basis. The research fee is $135 for a minimum 3-hour research block and $45 for each additional hour. All fees must be paid in advance.
When making requests for document research, the Archive Department needs as much information as possible about your requested item for the inquiry to be successful. The following information is required when requesting a document:
Year of event/show
Air date
Leader of session
Employer/Signatory
Song title
Artist
Contact: 323.993.3143, email
---
If you have already booked your research block, you may submit payment here. Please do not submit payment without confirming your reservation.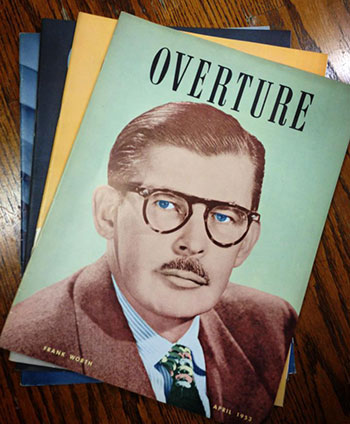 Cover of Overture, April 1953
---
Our History
Local 47 Timeline
Live Music in the '40s-'60s
Dedication Day Program - Jan. 21, 1950
Dedication Day Radio Recording (mp3)
Amalgamation of Locals 767 and 47

Library
The Local 47 Library accepts donations of books related to music and musicians. New additions are publicized in our monthly member publication, Overture. If you would like to donate a book, please write "Donated by (your name and date)" on the inside cover and send to the Overture office at Local 47, 3220 Winona Ave. Burbank CA 91504.
Photo Collection
Local 47 Archives has a Sideline Musician Photo Collection of local musicians of the 1930s, '40s and '50s. You may view an alphabetized list of the musicians whose photos are available.