Union Membership Makes the Difference
As a professional musician, your real strength comes from working collectively with other musicians. Isolated musicians are more easily exploited and less likely to receive the benefits Local 47 members enjoy — contracts that are more than just pieces of paper, health care and pension, scale wages worthy of professionals, and more.

Serving thousands of professional musicians, Local 47 is a labor union that promotes and protects the concerns of musicians in all areas of the music business.
Located in Burbank, we represent musicians working in the counties of Los Angeles (except Long Beach), San Bernardino, Riverside and Ventura. Affiliated with the American Federation of Musicians, we negotiate with employers to establish fair wages and working conditions for our members.


---
Member Benefits:
Health Insurance at affordable group rates for all areas of coverage: medical, dental, vision, chiropractic
Pension through the AFM & Employers' Pension Fund
Referral Service free to members
"All-Risk" Instrument Insurance to protect your instrument and equipment
Rehearsal Rooms as low as $15 per session
Emergency Assistance for traveling musicians
Established Minimum Wages and working conditions
Studio 47, our state-of-the-art 32-track digital recording studio, does everything from tracking to CD mastering/duplication
SAG-AFTRA Federal Credit Union provides financial services for musicians union members at competitive rates
Free Classes & Seminars offered to members year-round
Youth Membership offers a discounted fee for musicians under 21
ProMusic 47 Radio is our online radio station that plays all union music 24/7!
Union Member Discounts from the AFL-CIO Union Privilege program offer special loan, mortgage, credit and legal services, and discounts on everyday purchases
Wage Protection and contract enforcement when an employer fails to pay or defaults on an agreement
Local 47 Member Directory, a convenient resource containing contact information for members listed by name and instrument
Local, National and International Agreements that cover:
• Studio recording
• Concerts
• Stage shows
• TV
• Film
• Video Games
• Jingles
• Symphony
• Opera
• Ballet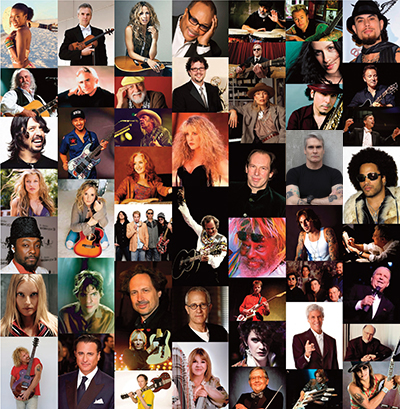 Our members include:
Mindi Abair (The Boneshakers)
Alex Acuña (Weather Report)
Jim Adkins (Jimmy Eat World)
Herb Alpert (The Tijuana Brass)
Marc Antoine
Tom Araya (Slayer)
India.Arie
Dan Aykroyd
Burt Bacharach
Jeff Beal
Cedric Bixler-Zavala (The Mars Volta)
Hal Blaine (The Wrecking Crew)
Ben Bridwell (Band of Horses)
Bruce Broughton
David Bryson (Counting Crows)
Lindsey Buckingham
T Bone Burnett
Brian Joseph Burton (Danger Mouse)
Colbie Caillat
Sean Callery
Mike Campbell (Tom Petty & the Heartbreakers)
Belinda Carlisle (The Go-Go's)
John Howard Carpenter
Martin Chalifour (LA Philharmonic)
Steven Chen (The Airborne Toxic Event)
Alf Clausen
John Clayton
Nels Cline (Wilco)
Charlie Clouser (Nine Inch Nails)
Adam Cohen (Low Millions)
Vinnie Colaiuta (Frank Zappa)
Lisa Coleman (Prince & the Revolution, Wendy & Lisa)
Joseph Conlan
Bethany Cosentino (Best Coast)
David Crosby
Sheryl Crow
Burton Cummings (The Guess Who)
Danger Mouse
Rick Davies (Supertramp)
Vincent De Rosa
Brad Dechter
Zooey Deschanel (She & Him)
Alexandre Desplat
C.C. DeVille (Poison)
Neil Diamond
Emmanuel del Real Díaz (Café Tacvba)
DJ Homicide
Mando Dorame (Royal Crown Revue)
Daryl Dragon (Captain & Tenille)
John Du Prez
Jakob Dylan (The Wallflowers)
Sheila E. (Prince)
Clint Eastwood
Mike Einziger (Incubus)
Mike Elizondo (Eminem)
Cleto Escobedo
Cleto Escobedo III
Melissa Etheridge
Kevin Eubanks
Paul Feig
Don Felder (Eagles)
Stacy "Fergie" Ferguson (Black Eyed Peas)
Michael Fitzpatrick (Fitz and the Tantrums)
Flea (Red Hot Chili Peppers)
Mick Fleetwood
Brandon Flowers (The Killers)
David Foster
Mark Foster (Foster the People)
Marti Frederiksen
John Frusciante (RHCP)
Andy García
Siedah Garrett
Bob Gaudio (The Four Seasons)
Grant Gershon (L.A. Master Chorale)
Michael Giacchino
Benny Golson
Gordon Goodwin
Alexander Greenwald (Phantom Planet)
Harry Gregson-Williams
Josh Groban
Dave Grohl (Foo Fighters)
Sammy Hagar
Dick Halligan (Blood, Sweat & Tears)
De'Mar Hamilton (Plain White T's)
Albert Hammond Jr. (The Strokes)
Ben Harper
Beth Hart
Peter Hayes (Black Rebel Motorcycle Club)
Oscar Hernández
Nick Hexum (311)
David Hidalgo (Los Lobos)
David Hodges (Evanescence)
Susanna Hoffs (The Bangles)
Josh Homme (Queens of the Stone Age)
Hollywood Bowl Orchestra
James Newton Howard
Boney James
Shooter Jennings
John 5 (Rob Zombie)
Sir Elton John
Nick Jonas
Quincy Jones
Rickie Lee Jones
Carol Kaye (The Wrecking Crew)

Daniel Kessler (Interpol)
Scott Kirkland (The Crystal Method)
Damian Kulash (OK Go) Lenny Kravitz
LA Chamber Orchestra
LA Philharmonic
LA Opera
Abe Laboriel
Abe Laboriel Jr. (Paul McCartney)
Tommy Lee (Mötley Crüe)
Sébastien Lefebvre
John Legend
Jared Leto (Thirty Seconds to Mars)
Adam Levine (Maroon 5)
Kenny Loggins
Nils Lofgren
Demi Lovato
LP
Steve Lukather (Toto)
Jeff Lynne (Electric Light Orchestra)
Daron Malakian (System of a Down)
Aimee Mann
Bruno Mars
Mick Mars (Mötley Crüe)
Max Martin
Steve Martin
Harvey Mason Jr.
John Mayer
John McVie
Brad Mehldau
Randy Meisner (Eagles)
Wendy Melvoin (Prince & the Revolution, Wendy & Lisa)
Jim Messina (Buffalo Springfield, Poco, Loggins & Messina)
Bret Michaels (Poison)
Blake Mills
Rickey Minor
Joni Mitchell
Tom Morello (RATM)
Alanis Morissette
Giorgio Moroder
Mike Muir (Suicidal Tendencies)
Dermot Mulroney
Dave Navarro (Jane's Addiction)
Randy Newman
Ne-Yo
Stevie Nicks (Fleetwood Mac)
John Ottman
David Paich
Christina Perri
Greg Phillinganes
Jean-Luc Ponty
Grace Potter
Trevor Rabin
Matt Rad

Bonnie Raitt
Don Randi
Brian Ray
Red Hot Chili Peppers
RedOne
Jason Reeves
Relentless7
Bill Reynolds
Trent Reznor (Nine Inch Nails)
Henry Rollins (Black Flag)
Linda Ronstadt
Patrice Rushen
John Rzeznik (Goo Goo Dolls)
Richie Sambora (Bon Jovi)
Poncho Sánchez
Jason Schwartzman (Phantom Planet)
Robert Schwartzman (Rooney)
Lalo Schifrin
Doc Severinsen
M. Shadows (Avenged Sevenfold)
John Shanks
Harry Shearer
Vonda Shepard
Alan Silvestri
Keaton Simons
Slash
Slayer
Bruce Springsteen
Stephen Stills
Steely Dan
Nisan Stewart
Stone Temple Pilots
Alison Sudol (A Fine Frenzy)
Tierney Sutton
Benmont Tench (Tom Petty & the Heartbreakers)
Toni Tennille (Captain & Tenille)
Robin Thicke
Steve Tyrell
Steve Vai
Alex Van Halen
Eddie Van Halen
Wolfgang Van Halen
Jimmy Vivino
Jason Wade (Lifehouse)
Tom Waits
Chris Walla (Death Cab For Cutie)
Mervyn Warren
Sara Watkins (Nickel Creek)
Mike Watt (The Minutemen, Dos)
Mikey Way (My Chemical Romance)
Will.i.am (Black Eyed Peas)
John Williams
Brian Wilson (The Beach Boys)
Dan Wilson (Semisonic)
Bill Withers
Zakk Wylde (Ozzy, Black Label Society)
"Weird" Al Yankovic
Neil Young
Dweezil Zappa
Hans Zimmer